Barn Star Farm, LLC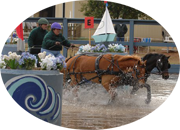 Driving
Training
Lessons
Boarding
Email Sue
About
A lifetime with horses.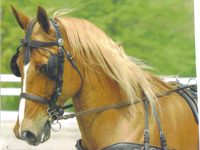 Sue Hrizuk has spent a lifetime with horses. From seven years old she's pursued equestrian knowledge and experience. Always learning and striving to train and compete with methods both classic and modern. Her philosophy of training is to allow a horse to willingly perform with lightness and expressiveness born of a foundation of Dressage, and the bond of respect between a person and their sport partner, the horse.
A well rounded equestrian, Sue has ridden extensively and excelled in ridden Dressage, over fences and cross country. She's started and trained horses and ponies and helped develop the abilities of established horses for more than 30 years.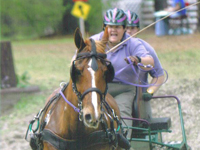 An association with Sally Graburn, one of the influential early combined driving trainers and competitors in America, lead Sue into driving. A supreme test of horsemanship, driving is considered both an art and a science. Lacking the close connection of a mounted rider, drivers and their equine partners need to form a true bond of trust to succeed. A well trained harness horse is the true picture of dignity and self carriage as the bond with its driver is expressed only through the rein, the whip, and the voice. Sue has been able to learn with many of the most influential drivers in the nation and has been especially privileged to study the methods of top trainer Susie Buchannan up close.
Sue's first driving horse, her Hanoverian cross "Lunar Magic" who she trained from an unstarted 8 year old, awakened her passion for driving training, but it wasn't until she met her equine partner "Captain" that she found her way to combined driving. Captain, a gangly chestnut of unknown breeding and green to driving, became Sue's partner and they competed from training level all the way to successfully competing at Intermediate. Only Captain's untimely passing prevented a run to Advanced as well.
Sue has competed at many of the largest Combined Driving Events in the country and has competed in both single horse and Pair Pony categories. The pair ponies have been particularly rewarding since she's personally introduced all of her ponies to driving.
Sue's worked with horses and ponies of many breeds and sizes, from 17 hand warmbloods to Shetlands and Miniatures. She believes that driving training can be beneficial to all horses since driving develops a sound mind and a strong push from behind which benefits all horses and ponies.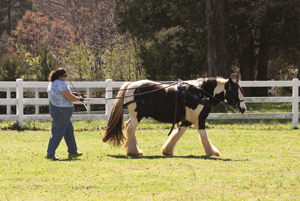 Sue founded BARN STAR FARM, LLC in 2009. After moving to South Carolina, she found that there was nobody in the upstate SC area who specialized in driving training. To fill the void, Sue decided to begin sharing her unique talents and experience with people interested in learning to drive. Barn Star Farm provides training for all equines, coaching and lessons for drivers and riders. Barn Star Farm has lesson ponies available to learn the art of driving. Barn Star Farm also consults on horse, carriage and harness purchases and occasionally has excellent horses or ponies available for purchase.
Barn Star Farm is located in Anderson SC and is 2 hours from Atlanta, GA, 2 hours from Charlotte, NC and is local to the Tryon/Landrum area as well as the greater Greenville/Spartanburg region.