Barn Star Farm, LLC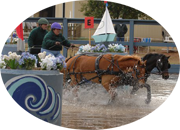 Driving
Training
Lessons
Boarding
Email Sue
Barn Star Farm, LLC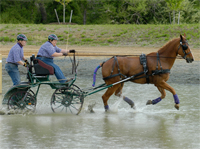 Email Sue at sue@barnstarfarm.com
We are Barn Star Farm in Anderson, South Carolina, specializing in horse driving for pleasure and competition. Driving became a lost art with the advent of the Industrial Age and the Automobile, but it is now enjoying a resurgence in popularity. Driving can be enjoyed by almost anyone, and learned by almost any horse. So let's hitch up and get to driving!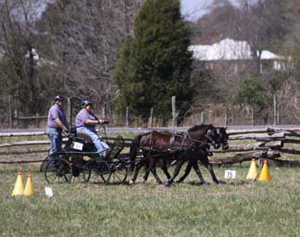 Services:
Carriage driving training and lessons
CDE (combined driving), Pleasure, and recreational driving taught
Horse, harness and vehicle consulting services. On-line or telephone consult free!
Riding lessons
Training Board
Driving Frequently Asked Questions
Can any horse learn to drive?
Most horses take to driving very well. Horses who really excel at driving are horses of character with a certain boldness that make them trustworthy partners. We can help you evaluate your horse or pony if you are considering driving.
How long does it take to teach a horse to drive?
Each horse is an individual. Some horses are very easy to train and some take more time. Some factors that can influence this are how much training or experience the horse has before starting the training, how old the horse is and the horse's willingness to learn. Ballpark is one to three months for most horses and ponies.
The previous owners said my horse drives, does it?
Many times horses that have been driven when they were young are sold as "driving horses". The training may have been good or not and the horse may not have been fully trained or have had an accident. We can help judge your horse or pony's experience and can help retrain the lapsed driving horse.
Can my "sadly outgrown" pony take up driving?
Ponies whose children have moved on to larger horses, can find a rewarding second career as a driving pony. Mothers and children can also share ponies as most riding ponies can also learn to drive, allowing the whole family to participate. We can help train your family ponies.
I've seen videos for sale to learn how to train driving horses, why do I need a driving trainer?
Driving is different from most horse sports. Although there are logical procedures used to train driving horses, only experience can really tell when a horse is ready to move forward from one step to the next. Training driving horses also is something best done with a skilled assistant present at all times. None of this lends itself to on the job training.
I'm already driving my horse or pony, why do I need driving lessons?
The horse, harness, carriage and driver all need to work together in harmony to allow the horse to perform to its utmost. From the driver's seat you can't see how your horse is performing. You can't see how a small adjustment can influence your horse's comfort. If you compete, you need skilled eyes on the ground to tell you how to achieve the competition standard you seek. We can provide coaching for individual drivers or clinics for groups.
Is driving expensive?
Driving doesn't have to be expensive. If you buy correctly the first time and search out deals on good pre-owned equipment, you can be driving your equine for around the price of a quality saddle. The type of equipment you choose should be appropriate for your driving focus and ambition. The carriage appropriate for a recreational trot down the road might not be what you need for the sport of combined driving. The harness and the carriage both need to be correct for the size, type, and confirmation of your equine. It takes years of experience to fit all this together correctly. We can help you evaluate your purchases to help you avoid costly mistakes.
What can I do with a driving horse?
Driving is fun! Just the enjoyment of a drive down a country lane is fine for many people. If you want to show, there are Pleasure driving shows where traditional carriages and proper turnout are displayed. To compete, there is the international sport of Combined driving, the driving version of the 3 day event. And many other showing opportunities as well.
With over 30 years of equine experience, I will help you reach your driving and riding goals. I offer reasonable prices, and I will travel to you.